When shooting products, props make all the difference. They can help to create a scene, tell a story and make your products shine in all their glory. But man, they can get EXPENSIVE. If you are just starting out, or have a smaller budget, you can totally make your own DIY product photography prop if you think outside the box!
I ADORE these fluted column props from Moodelier however, at the moment, they're just a bit out of my budget.
When I saw this $7.50 foam roller from Kmart, I thought, with a bit of spray paint, it would make a beautiful fluted column for product photography!
DIY Product Photography Prop: Fluted Column Tutorial
The only hard part about this DIY project is the time involved. So make sure you have something to keep you busy while you wait for the paint to dry!
[1] What you need to make your DIY Product Photography Prop
Foam Roller (I used 2 because I wanted them in both white and pink)
Knife
Paint Brush
Primer
Sandpaper or Sanding Block
Spray Paint
Mask
[1] Cut the foam roller
Using the knife, cut the foam roller so that you have 3 pieces, a tall, medium and small block is what I decided to go for. You can get creative here and cut it in whatever size you like.
[2] Sand the Edges
Using the sanding block, sand the top and bottom edges where you cut. This will help make them smoother and neater.
[3] Paint with primer
Using a paintbrush, paint on your primer. I found it was best to do a few thin layers rather than one thick layer
[4] Spray with spray paint
Once the primer is fully dry (I waited 24 hours)  spray a thin layer of paint using the spray paint colour of your choice (I chose pink and white).
Make sure you are in a well-ventilated area, and use a mask to avoid inhaling the fumes.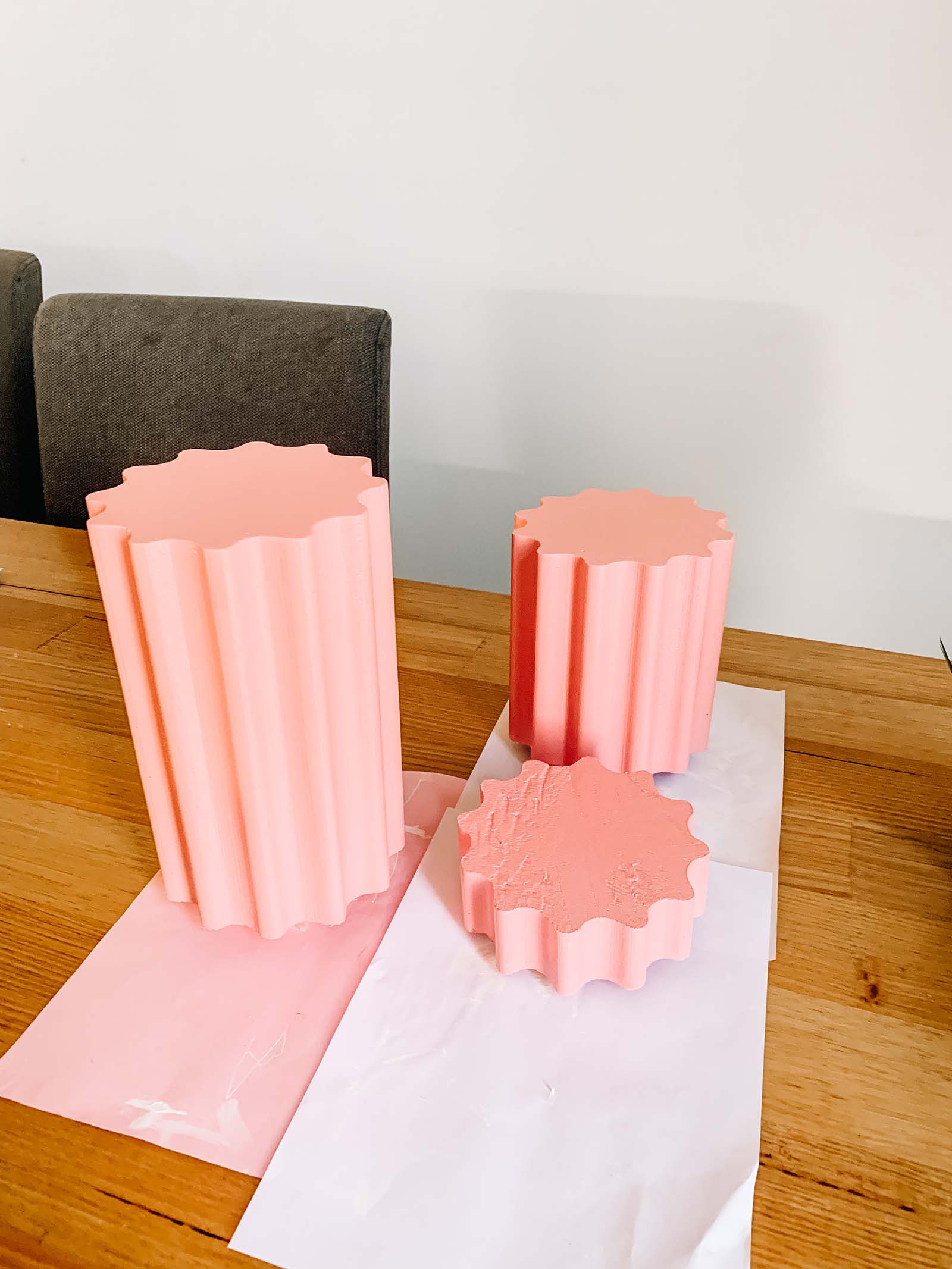 I ended up spraying 2 layers of paint and was VERY happy with the results.
The end results:
I think they turned out pretty great! All up I spent about $50 on them which I think is pretty reasonable considering I got 6 new DIY product photography props!